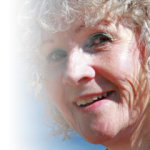 I had my eyes opened to the ethos of a traditionally subsistent Aboriginal way of life, an ethos that withstood Western religious, political and economic interference, during a 1987 winter trip to Canada's Yukon Territory. An elder in the Teslin community of the Tlingit First Nation explained a significant fact. His people would be able to survive – even if the global economic system collapsed – because he and other individuals of his generation practiced, and taught to younger generations, timeless survival practices on how to live on the land interdependently with other species.
Last week, on CBC-TV's The National, an `Only in Canada' segment highlighted a Dene First Nation elder in the Northwest Territories (NWT) conducting a camp that teaches practices on how to survive. These skills are essential to access the plant and animal resources suitably, to protect the biodiversity of life in Canada's north. His camp is one among several similar `on the land learning' cultural camps in the NWT.
This Dene elder shares his knowledge with school children across cultures. In witnessing his gentle modesty, he offers a wonderful example of an intertwined spiritual and practical wisdom embedded in the traditional culture of Aboriginal people that deserves the respect, and attention, of other cultures, in Canada and globally.
We all can learn from his example. The reason is, the increased frequency of disasters caused by extreme weather events demonstrates that no nation of people on any continent can feel assured any longer that its population will be spared from natural catastrophes, or not be affected simply by the decline in global biological diversity.
An imperative for our time is to understand the basic principles of "biodiversity," in order to rethink human lifestyles based on economic development that is ecologically harmful. We either can choose to change consumer habits that cause harm and help to lesson the planetary impacts. Alternatively, and inevitably, we will be forced to do so by the forces of Nature.
Even school children can understand biodiversity, if and when schools include curricula with outdoors, and related, experiential activities. Biodiversity has various definitions. Here is one definition, from the Biodiversity Education and Awareness website in Ontario:
"Simply put, biodiversity is life in all its variety: over 14 million species found from mountain top to deep-sea vent. But it is much more. Those species connect, and interact. Those interactions create communities and systems, and those systems provide goods and services such as oxygen production, pollination, water filtration and storage, pest control, food production, carbon storage and erosion control. Again, simply put, biodiversity anchors nature's life support system."
The most recent large extreme weather disaster, covered by news media in Canada for more than a week, has been a massive flooding through large areas of Alberta – the extent unique in Alberta's known historic record. TV news videos have portrayed the immense force of water and its destructive path, initiated by extreme rainfall, which transformed tiny creeks into torrential rivers to alter everything in the ecosystems through which they flowed.
Understandably, mainstream news stories tend to focus on human drama and conflict. Therefore, we bear witness to the lives of more than a hundred thousand Albertans, not just in the City of Calgary yet, as well, in a number of small communities, who have lost homes, the artifacts of family history and entire community infrastructures. These folks, economically – and psychologically – now must rebuild a new ground floor of life and a new vision for the future.
The 2008 book Sustaining Life: how Human Health Depends on Biodiversity is co-authored and co-edited by Aaron Bernstein, M.D. and Nobel Laureate Eric Chivian. A talk given by Dr. Chivian on this topic is freely available to watch on the online Vimeo network. Below is one image from a diagram series in their book, available to study on NovaMind's website: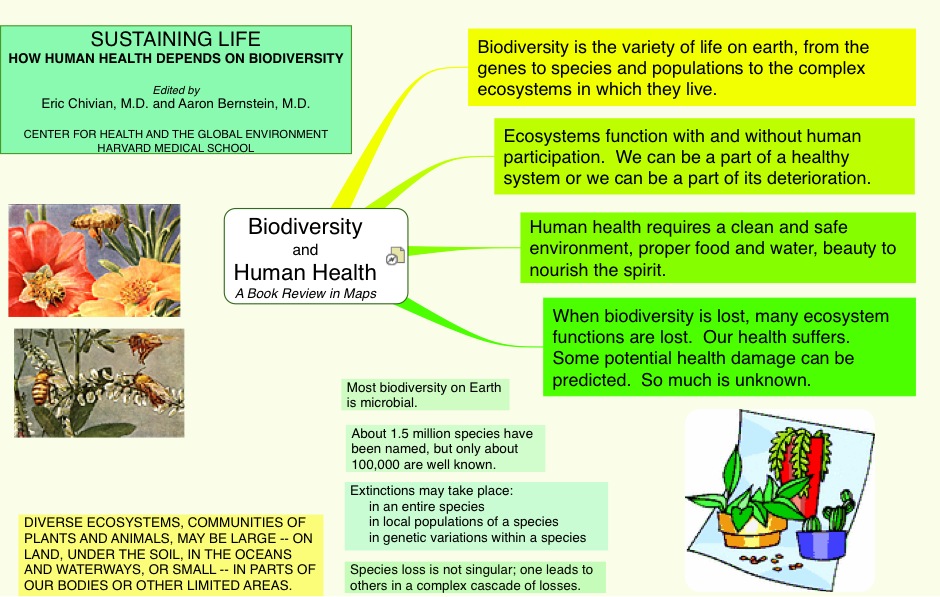 The unfolding human trauma in Alberta, meanwhile, is steadily being exposed layer by layer. To be fair, therefore, it is too early for the other shoe to drop – the long term environmental consequences of such extensive Alberta flooding. Almost nowhere on the internet could I find news stories pertaining to the multi-faceted environmental reality, which will further alter the lives of thousands of Albertans in ways not yet visible, but imminent regardless.
One notable exception, as a source of insight regarding Alberta's environmental plight, has been interviews with Dr. John Pomeroy, who holds a Canada research chair in water resources and climate change at the University of Saskatchewan.
The Canadian Press, for example, interviewed Dr. Pomeroy from his field research station in the flooded mountain community of Canmore. Pomeroy personally witnessed how an entire mountainside collapsed nearby, when mountain streams morphed into torrents. He explains the wider impacts on biodiversity:
"Even if the climate stayed exactly the same and we just had regular precipitation events in the future, the way the watersheds translate rainfall and snowfall into stream flow is going to be different now.
"The channels are different… They need to be remapped… .
"Those changes are likely to force plants and animals that live in the watershed to change as well. Some may not make it.
"Trout, for example, need pebbly river bottom to spawn. The Bow River has swallowed so much silt that the river's famous trout fishery may be threatened."
… Climate change models predict heavier rains, more precipitation falling as rain instead of snow and rain falling on top of snow – all of which favour more flooding, said Pomeroy.
What is worse, future extreme flooding in Alberta potentially could cause a catastrophe as well in Canada's Northern Mackenzie River Basin.
To demonstrate how far flung extreme weather events affect more than one large bioregion, an article on the Desmog Canada website provided the following insight:
"Record flooding in the heart of the Alberta tar sands dramatically illustrates their threat to Canada's `Serengeti,' the Mackenzie River Basin. Only days before this week's flooding in Fort McMurray, a panel of international science experts warned that the nearly 200 square kilometres of toxic wastewater lakes near rivers like the Athabasca pose a direct threat to one of the world's most important ecosystems."
An excellent map attached to the above article illustrates the interlocking river basin that could enable this environmental threat: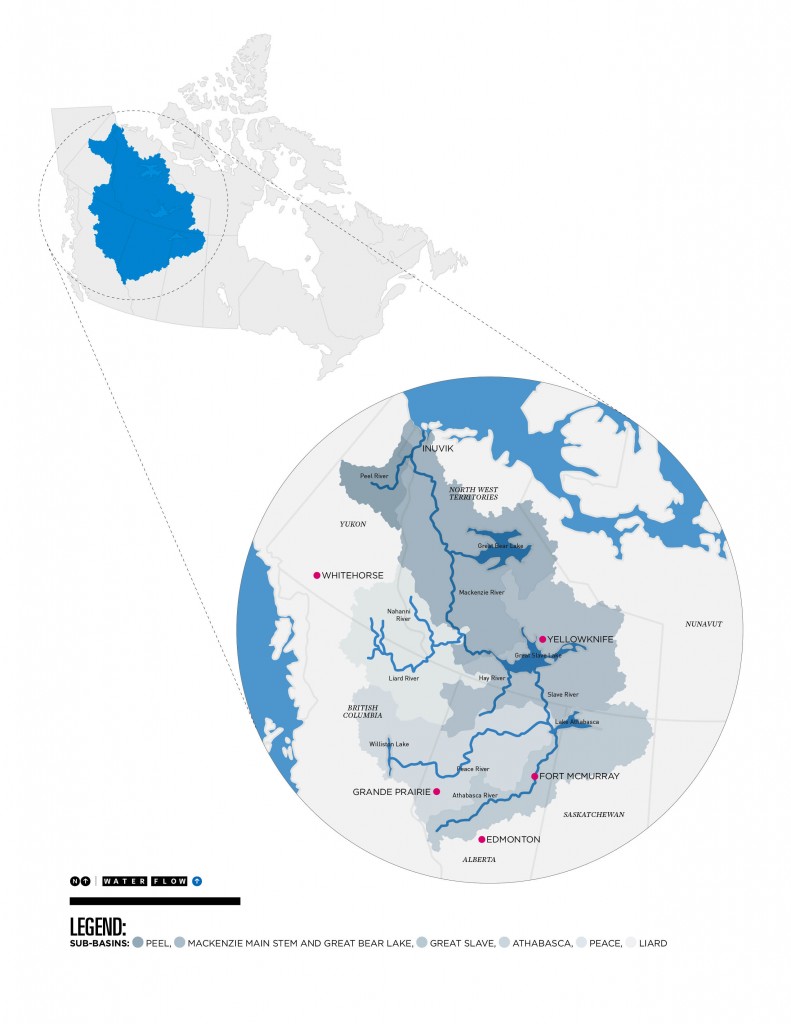 Whatever your opinion about Alberta's tar sands, and regardless of one's position on climate change, this visual image presents to us a physical truth of environmental vulnerability that cannot be denied. In view of such stark evidence, such large-scale extractive industrial activities must be rethought.
Very timely is a report recently published by the Rosenberg International Forum on Water Policy that elaborates on protecting the Mackenzie River Basin because of the global importance in regard to the biodiversity of this watershed. An article published by ScienceDaily provides the report's eight principle findings and conclusions.
In this historic moment of extreme weather globally, we need to use our intelligence as a human family, and transcend nation state as well as party politics, to figure out the ways that we can share ecologically-based perspectives. We sorely need to move beyond denial, and figure out suitable lifestyles to minimize if possible, and to negotiate when necessary, extreme events and their consequences around the planet because they are interrelated.
As planetary citizens we must take ownership of our individual and collective responsibility to protect the biodiversity that sustains a human existence worth experiencing, an existence to preserve that is blessed with health, dignity and beauty.