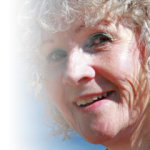 The extraordinary experiences of the past two weeks compel me to honour a good man while he still is with us. Tributes have been streaming in, by email, social media and phone calls from across Canada and abroad, and read to Barry by those who can visit with him. In a previous version of this blog post, I expressed the hope to relate my tribute in person.
In my visit earlier this evening I felt blessed to be able to do so. I began by saying, "Sandy's here, Barry." He no longer can speak, but his eyes were partly open and he turned toward me. I continued, "Now I know you think I'm five sheets to the wind…," upon which Barry's face opened into a smile, and I described to him why I have chosen to honour him with the moniker of "the `green man' of media literacy" (as I explain below).
Doing so definitely got his attention, and his wife Lynn observed that his breathing had changed, more relaxed. Next, I asked Barry to blink if he would like me to read passages from Thoreau. He blinked. I read several passages of exquisite poetic prose, and Barry's face looked beatific. I included the excerpt written below in this blog post, telling him why I felt it pertained to how he lived his own life and the ways he inspired his students.
Many stories and personal anecdotes will continue to be told through the years about the transformative impact that Barry Duncan had upon the lives of many who knew him. My chosen story, at this moment, is to communicate what I have witnessed in regard to the outpouring of affection during Barry's final days.
My recent blogs have focused on the feminine principle. I had intended to expound on the value of awakening its innate qualities within each of us, and citing the work of Jungian analyst Marion Woodman. That then would be followed by outlining how and why, in their book The Maiden King, Woodman and Robert Bly (author/leader of the mythopoetic men's movement) refer to the alignment of the feminine and masculine principles as "the new paradigm" for human consciousness.
But, hey, all the above is being illustrated in living colour through the acts of magnificent people. This marvellous reality is unfolding, both in regard to how Barry is negotiating his final days and, also importantly, the ways in which Barry has been receiving extraordinary attentiveness by men and women who are manifesting this harmonious alignment.
Barry Duncan is one of the foremost pioneers of media literacy in Canada, and also a maverick Language Arts teacher for many years at the School of Experiential Education (SEE), an alternative senior secondary school in the City of Etobicoke, in the Greater Toronto Area (GTA) of the province of Ontario.
Barry is an outstanding intellectual, influenced by Marshall McLuhan and Northrop Frye. He himself has been a walking, talking encyclopedia, from classical literature to popular culture.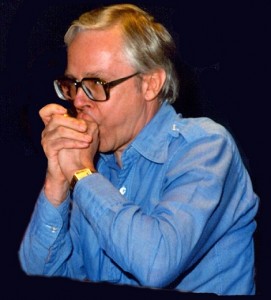 Significantly, as well, through life-long excursions into the world of Nature, Barry has connected his mind with his soul. He loves birds, and gifted with a humorous wit, also is renown  for closing keynote addresses (see photo) at conferences with a medley of loon calls.
I participated in several of those conferences with Barry and fellow members of the Association for Media Literacy (AML), who currently have stepped forward to help out in Barry's final days, as have several of the (now retired) core teachers at SEE.
My own part-time teaching at SEE, a course in Native Studies for eight years, was a most memorable, and creatively stimulating, work experience during many years of cross-cultural activities. Barry always has supported my unique transformative learning approach to media literacy that continues to evolve.
SEE attracted many highly intelligent young adults who were utterly frustrated and bored with the mediocrity fed to them in conventional schools, where being mentally reduced to conform to the status quo seemed to be the predominant agenda of schooling, instead of the development of questioning minds.
In the spirit of what alternative schools do best, the curricula content with the experiential processes of teaching at SEE provoked learners to dig deeper into themselves to discover their respective potentials, and also demand more of them. Thereby, these young people grew more closely into who they could be, by tapping into, and believing in, their own inner and outer capabilities. These offerings awakened possibilities within students that affected the rest of their lives. Stories about these outcomes now are coming full circle in tributes to Barry.
The above glimpse into the life of a great teacher and a dedicated media educator who taught, and practiced, the highest standard of critical pedagogy, yet who also has been a person connected with the Earth and its Life Force, is why I call Barry Duncan "the `green man' of media literacy."
First of all, allow me to cite Henry David Thoreau, in a passage from Walden, that eloquently sums up how Barry Duncan lived on this physical plane we call Earth:
"We must learn to reawaken and keep ourselves awake, not by mechanical aids, but by an infinite expectation of the dawn, which does not forsake us in our soundest sleep. I know of no more encouraging fact than the unquestionable ability of man to elevate his life by a conscious endeavor. It is something to be able to paint a particular picture, or to carve a statue, and so to make a few objects beautiful; but it is far more glorious to carve and paint the very atmosphere and medium through which we look, which morally we can do. To affect the quality of the day, that is the highest of the arts. Every man is tasked to make his life, even in its details, worthy of the contemplation of his most elevated and critical hour."
Well, I'm here to tell you that, as a witness to Barry's life, up to recent days, making meaning of each day is how he has addressed being alive. Living a life with purpose also is what he strove to impart to his students, and many of them apparently "got it."
The focus of Barry's concern to elevate other human beings closer to their potential is the second reason why I refer to Barry as a `green man.' Symbolically, the `green man' accompanies the `goddess' as a perennial figure in many cultures that has lasted from ancient times through the centuries. Visible on churches across Europe, for example, William Anderson, author on spirituality and architecture, writes: "one reason for the enthusiasm of the medieval sculptors for the Green Man may be that he was the source of every inspiration."
Three weeks ago, I visited Barry in a seniors' residence, where he has resided in recent months, given the advanced stages of Parkinson's. The guy amazed me. There he sat, only able to walk with assistance and speaking in a whisper. He spontaneously recited poetry. Barry next persisted in outlining a project that he was trying to convince the residence to organize, as an activity more stimulating than the usual well-intentioned word games, etc. He also was quick to respond to my quirky humour, with which I always can elicit a smile from him, by telling me (not for the first time) I am "a real character."
During that visit, I had wanted to describe to Barry the theme of my latest blogs, and how I was introducing the notion of interrelating, more consciously, ecological literacy with media literacy through the symbolic image of a `Venus figurine' shown on my media literacy page, and to whom I refer as `saucy lady' in blog post "Unearthing the Feminine."
But, it soon became evident, I simply was called to give loving presence to Barry, who by then only weighed a hundred pounds and astutely aware of his predicament. His desire to discuss a project to benefit others, regardless, epitomizes the essence of Barry.
I departed, promising to bring a surprise the following week. I did so, not to the residence this time, but instead to the hospital – two CDs of music composed by Dan Gibson, one with loon calls and the other, songbirds. Barry's face lit up when he saw them.
Synchronistically, thank God someone was there, and it happened to be me, when the doctor showed up to give Barry news that devastated him. His deteriorating physical condition was no longer reversible. I heard that part of the news before leaving the room, to give privacy.
Some minutes later, I returned, and Barry was truly shaken up, hope for extending his life shattered. "Sandy, I'm dying, help me." I centred myself into Zen mode, to calm down Barry (and myself), and methodically address his requests: pen and paper, phone his wife Lynn to come, phone his friend Don to come and help with necessary plans, massage his feet, and give emotional support as he mentally tried to adjust to this new information.
I reassured Barry that I would not abandon him, and I would stay with him throughout the night. He replied, "You have courage." And so I stayed, through 30 hours until others could take over, a critical period for Barry, feeding him his last spoonfuls of food prior to the next morning, when he no longer was able to digest food at all.
Henceforth, the ground swell of support has been awesome. The tenderness juxtaposed to coordinating pragmatic details, exhibited by Barry's closest male comrades, is profound. The loving vigilance of longstanding female colleagues, equally so. Visitors/caregivers also include the younger generations of media lit colleagues and former students. Last but not least to witness is the obvious devotion between Barry and his wife Lynn. She is a loving yet fragile soul now heart broken, to whom the rest of us also give support.
So, here's the thing. If I want to be true to aligning the feminine and the masculine principles for a more holistic vision of media literacy, maybe my saucy lady needs a companion. I need to find and add a green man image. Methinks Barry would like that.
Postscript: William Barry Duncan (1936-2012) passed away peacefully on the morning of June 6 at St. Joseph's Hospital, and a church service held on June 11 at St. Philip's Anglican Church, in Toronto, filled with colleagues, former students and family.